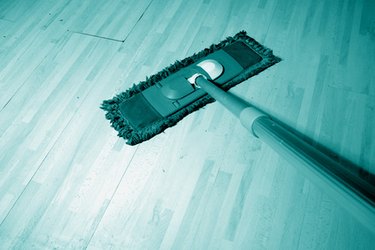 Cancer patients do not need any more chemical compounds in their home, so cleaning with chemical solutions need to be eliminated. There are many ways that you can clean and eliminate odors in the home by using natural methods, which work even better than store-bought supplies and are much healthier and beneficial to the patient. With the medical bills that the patient will be incurring, it is also a much inexpensive way to clean.
Step 1
Mop floors with a vinegar and water solution (recipes in the Tips section). Set a bowl of vinegar near the stove to capture strong cooking odors. The smell of vinegar may be strong, but it will only linger for about 30 minutes before disappearing completely, taking the bad odors with it.
Step 2
Sprinkle baking soda in the bottom of the trash can under the bag, and into the bottom of the bag. Also sprinkle in the carpets along with borax and let sit for about an hour before vacuuming. Spread baking soda inside of the bathtub and wipe around with a wet rag, and it will clean faster and better than household cleaners without even scrubbing.
Step 3
If the person has cats, sprinkle baking soda and borax into the bottom of the litter to neutralize the ammonia in the cat urine. Mix 1/2 cup of equal amounts of baking soda and borax with the litter before adding it to the box. Do not use vinegar in litter boxes because when vinegar is mixed with ammonia it could cause harmful vapors.
Step 4
Place bowls of baking soda in the refrigerator and in the closets and change out every two to three months. Open windows (weather permitting) to air out strong odor areas.
Step 5
Set a bowl of charcoal behind the toilet to absorb moisture and eliminate mold and mildew smells. You can also place in the laundry room and under sinks.
Step 6
Wash clothing and fabrics in a homemade laundry detergent made of one cup sodium carbonate (pH increaser for pools will work and can be found at certain stores in pool season or at a pool supply store), 1/2 cup each of borax and baking soda and one grated laundry bar of Fels Naphtha or any non-perfumed bar soap. Mix all ingredients together and store in a lidded container or old coffee can. This detergent keeps laundry smelling fresh even after it leaves the dryer, especially bath towels and other clothing that is stored in shelving or drawers.
Tip
A big box of baking soda borax can be found in the laundry aisle as well as the Fels Naphtha if the store stocks it. Vinegar solution: Use 1 cup of distilled white vinegar with 1 gallon of hot water. Disinfectant Spray: 1/2 cup of borax and 1 gallon of hot water. Wipe surfaces down with rag to disinfect. Dishwasher detergent: Mix 2 tbsp. of baking soda and 2 tbsp. of borax.
Warning
Do not mix vinegar with ammonia products to avoid harmful vapors or fumes.