Things You'll Need
Pencil and graph paper

Measuring tape

Thin-set mortar

Joint sealer

Grooved trowel

Putty knife

Adhesive gun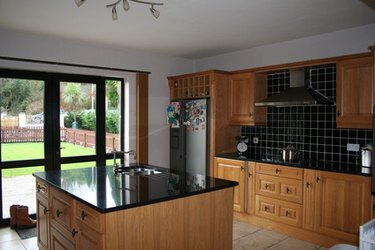 Replacing an old, worn-out countertop with a quartz compound surface is an excellent way to update your kitchen or bath. Various manufacturers offer quartz surfaces, which mimic the look of granite without the maintenance. These surfaces are 93% quartz and are mixed with a polymer, which makes them non-porous and easy to clean. They do not allow bacteria to form, so they are perfect for food preparation areas.
Step 1
Measure the surface to be covered and create a template on graph paper. Indicate the cut-outs you will need for the sink, cook-top or any other fixtures. Indicate the areas where you want to have a backsplash.
Step 2
Select the quartz surface you want to use and order the material from the manufacturer. It will be prepared with the cut-outs you indicated, and the edges will be radiused for smoothness. Sheets are usually 120 inches by 55 inches, and you want large pieces with minimal joints. Thicknesses are 3/4 inches to 1 1/2 inches.
Step 3
Remove the old surface and clean the counter, leaving it dry and dust-free. If the surface is not level, use a leveling paste to correct the problem. Apply a thin layer of paste (no more than 1/4 inch thick) with a wide putty knife. Feather the edges with the putty knife and check to see if the surface is level. Reapply as needed until the surface is completely level.
Step 4
Spread a bed of thin-set mortar on the surface to be covered, or apply a continuous bead of adhesive to the back of the quartz.
Step 5
Set the quartz on top of the thin-set mortar bed, lining up the back side first. Apply pressure by hand or with a rubber mallet to bond the quartz to the mortar and to get the piece level. Leave only a hairline crack between each piece. Install the counter first and finish with the backsplash.
Step 6
Fill in the joints with a joint sealer using a putty knife. Remove any excess joint sealer with a damp sponge.