Things You'll Need
Jewelry

Soap

Paint thinner

Gold paint

Old newspaper

Plastic gloves

Gold nail polish

Clear nail varnish/household varnish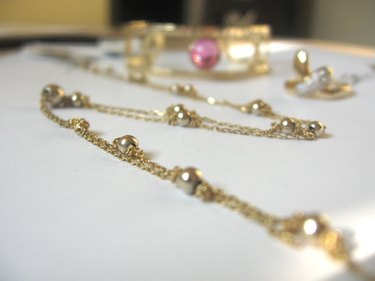 Old jewelry can be spruced up and given a new lease on life with a little effort. Whether it is old costume jewelry that has become discolored or a cheap piece that needs to be improved, it can be colored to improve it. There are a few different ways to color jewelry gold and the method depends on what effect you are trying to achieve. Paint can help create an eye-catching piece or replicate a piece's original state.
Step 1
Clean the piece of jewelry to get rid of any dirt that will affect the finish. Wash in warm soap and water and dry thoroughly before beginning. If painting plastic jewelry, wipe down with paint thinner after washing.
Step 2
Invest in a quality paint if you wish to achieve a quality finish. Krylon's Premium Metallic 18 kt. Gold Plate is a quality paint and gives an even finish. Patch test a bit of the jewelry that won't be visible before beginning to paint.
Step 3
Lay down a few sheets of newspaper before you begin to work and put on the plastic gloves to prevent your surfaces and hands from getting covered in paint. Hold the spray can a few inches from the piece of jewelry and spray evenly. Do not attempt to build up the color in one go--coat the piece as many times as necessary to achieve the color you desire. Leave the piece to dry for two hours after painting. Do not be tempted to paint it again before then if you are recoating. Pieces may be feel dry to the touch after about 20 minutes but will not be completely dry for two hours.
Step 4
Use gold nail polish if you only wish to add slight touches of gold coloring to the piece. Choose a good quality nail polish to avoid chipping. When you are finished coating the piece of jewelry in either the gold paint or the nail polish, varnish it protect it. For a greater shine, put an extra coating on. Do not overdo the varnish--too many coats will be prone to chipping.
Warning
Do not attempt to paint real gold jewelry or expensive pieces. As with any craft projects, mistakes can happen. Use only pieces that are not valuable and that can be easily replaced.