Things You'll Need
Scaffolding kit

1x1 foot pads

Tie Ins

Plank-grade lumber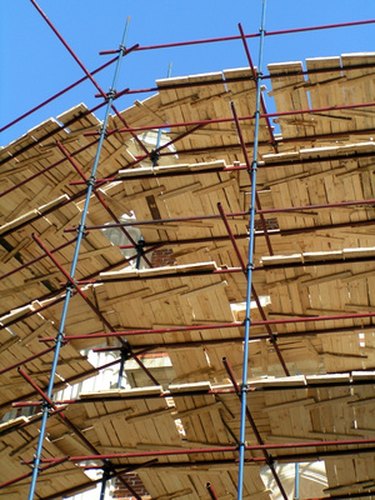 Scaffolding is used in construction to be able to provide a working platform that is above the ground. Useful in both outdoors and indoor applications, scaffolding can often be more useful than a ladder. Scaffolding, unlike ladders, provide adequate room for several people to work on, as well as a platform to place materials needed, which eliminates traveling up and down the ladder. While there are several types of scaffolding, assembling and disassembling typically requires the same steps regardless of type.
Assembly
Step 1
Level the ground that you will be assembling the scaffolding on. Ensure that the area will also be dry so that scaffolding does not have the risk of slipping. Look around to make sure there are no hazards in the way or obstacles that will make it difficult to secure the scaffolding.
Step 2
Place scaffolding feet on top of one by one foot pads. This is especially important if the ground is soft or sandy. Plywood or casters are not as efficient as they can shake if the ground is not completely level.
Step 3
Lock in vertical frames into each foot pad. If the frames seem to shake or seem to not be sturdy, you can also use tie wire to brace them.
Step 4
Place your plank grade lumber onto the scaffolding. Make sure that it is plank grade lumber as plywood with knots can be hazardous. Knots and cracks are areas that can possibly break with added pressure. Make sure that the wood reaches all the way across the scaffolding with at least a 4-inch overlap.
Step 5
Lock in more vertical beams onto the scaffolding. Attach diagonal braces that crisscross in the front and back of the scaffolding. This helps to brace the scaffolding and also provides a rail for the workers. Place another piece of plank grade lumber. Continue this process until the scaffolding is as high as you need.
Disassembly
Step 1
Unclip or unlock the top scaffolding bars. You are working in reverse of assembly.
Step 2
Unclip or pull off diagonal braces.
Step 3
Pull down one plank of lumber. You may need assistance with this step as the lumber will be heavy.
Step 4
Unlock the next set of vertical scaffolding. Continue to work down the scaffolding until you reach the bottom.
Step 5
Pull foot pads off of bottom of scaffolding.
Tip
Tie out can be used to secure scaffolding, but do not use to brace diagonal bars. In most cases, you will need an additional person to help you with both assembly and disassembly. Contact your local building or zoning department to see if there are any special requirements after a certain height; for instance, in California anything over 7 feet high requires extra guardrails to be installed.
Warning
If the scaffolding will be a substantial height, wear a helmet and harness for safety.