Things You'll Need
Aluminum duct tape

Heat gun

Water (one bucket)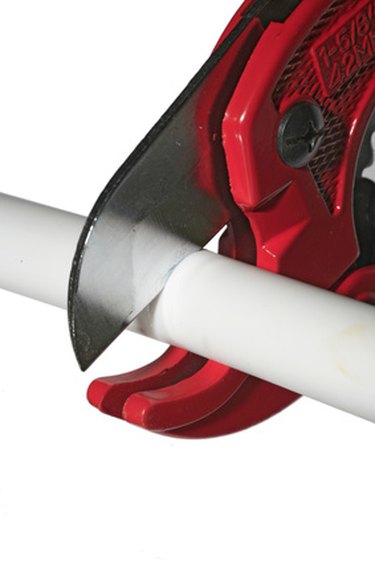 Polyvinyl chloride pipe (commonly abbreviated as PVC) is widely used in construction because it is cheap, durable, and easy to assemble. PVC pipes are available in various lengths and are connected by fittings fused together using various solvent cements, or heat-fused, creating joints that are virtually leak-proof. Some PVC pipes are flared at the ends to allow another pipe to be connected and fused without a connector or fitting. Other pipes that are not flared can be flared to eliminate the need for a connector or fitting. Flaring a PVC pipe is easy and can lower your construction budget.
Step 1
Cut around a foot of PVC pipe and wipe with a piece of dry cloth to make sure that oil and other chemicals are removed. The pipe must be identical in diameter as the pipe that needs to be flared. Wrap three layers of aluminum duct tape around the end. The tape provides extra clearance because a heated pipe will shrink back a bit while cooling.
Step 2
Get the pipe that needs to be flared and heat one end with a heat gun. Rotate the pipe continuously and keep the flame a few inches away from the pipe to avoid burning it. After about a minute, test the softness of the heated pipe by nudging the tip a bit against the floor to see if it will bend. If it bends, the pipe should be soft enough to expand.
Step 3
Insert the taped pipe into the softened opening of the heated pipe. Rotate the softened pipe slightly to allow easier penetration. Push the inserted pipe to about four inches deep, or up to your desired depth. Align both pipes properly and pour water to cool it.
Warning
Avoid touching the pipes while hot.