Things You'll Need
Cardboard boxes

Paper towel rolls

Toilet tissue rolls

Pencil

Scissors or craft knife

White paint

Various colors of craft paint

Paintbrushes

Marker

Ruler

Craft glue

Wire (optional)

Aluminum foil (optional)

Black tape (optional)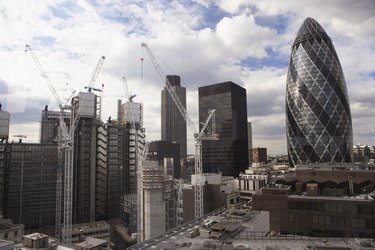 In the last 130 years, skyscrapers have rocketed from roughly 150 feet tall to amazing heights of 1,900-plus feet, largely due to designs that use lighter building materials. Craft a model skyscraper out of cardboard for a school project or just for entertainment. Model your building after one that is famous or make up your own design.
Step 1
Select cardboard boxes from household items. Choose from a variety of shapes including boxes for cereal, pasta, cookies, crackers and drink mixes. Collect empty paper towel and toilet tissue rolls. Work with the boxes by stacking and fitting them together to see if they will fit into a design. Mark any boxes you need to cut.
Step 2
Gently disassemble the boxes that you have chosen to use. Take them apart carefully so they do not rip. You will be reassembling them, so you will need to keep the pieces whole. Cut any boxes you previously marked and then take them apart.
Step 3
The outsides of the boxes are too glossy for paint to adhere to, making the non-coated cardboard interiors the better surface for the exteriors of your skyscrapers. Paint the insides of the boxes with a coat of white paint to prime them. Some boxes contain writing on the inside and may need several coats.
Step 4
Paint the cardboard with the base color of your building after the primer is dry. Let the paint dry thoroughly. Add window grids to the boxes with a marker and ruler if you desire, or you can paint them in freehand when the building is complete.
Step 5
Reassemble the boxes by applying glue to the folds that you pulled apart earlier. Hold the pieces together until the cardboard has bonded. Slide pieces of tape inside the boxes and place them over the joints to reinforce.
Step 6
Stack your boxes to create your skyscraper design. Glue the pieces together as you go. Let the glue dry completely before you add any artistic details.
Step 7
Add a spire or an antenna to the top of your skyscraper, if desired, with a piece of wire or aluminum foil. Use skinny pieces of black tape to create detail on the building. Paint any details with paint, such as reflections, doors or shading.
Warning
Adults should supervise young children in the use of scissors or craft knives.