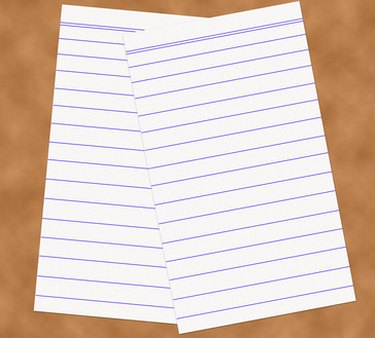 If you would like to create "writing paper" for your child or students to practice their handwriting or draft a short essay, you will need to provide them with lined paper. You will have similar needs if you are creating forms for clients, customers or patients to write information on. Fortunately, printing lines on blank paper is a relatively quick and straight-forward process.
Step 1
Open a new document in your computer's word processing program. Most computers these days come equipped with Microsoft Word. However, if you do not have this program, Corel Word Perfect is an inexpensive word processing option and Open Office can be downloaded for free.
Step 2
Use your mouse to move the black arrow on your computer screen to the "Insert" option, which is located on the tool bar at the top of your page. Use your mouse to click on this option. A drop down menu will appear with several options for choosing items to "insert" into your document.
Step 3
Select the "Picture" option from the drop down menu. A second drop down menu will appear. Select the "horizontal line" option from the menu. A secondary screen will open with several line options. Select the "default line" option. This will cause one horizontal line to appear within your document. Repeat this process to create as many lines on your document as needed.
Step 4
Connect your computer to either an ink jet or laser printer using your printer's USB cable. Place copy paper into the paper tray on your printer. From your computer, select the "File" option from your tool bar. Select the "Print" option from the drop-down menu. Enter the number of copies that you wish to print and select the "Print" option at the bottom of the window. This will initiate the printing process.