Things You'll Need
Paper car pattern

Large index card (or cards)

Scissors

Multipurpose glue

Markers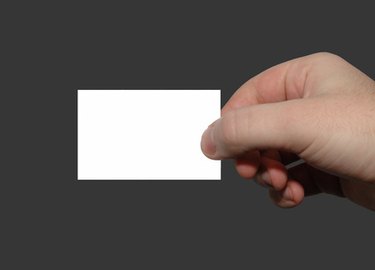 Making a car out of index cards is not much different than making a car out of paper. The easiest way to accomplish this task is using a paper car pattern that can be found online or in craft books at your local library or bookstore. Making the cars out of index cards, however, makes the car sturdier and more durable toy to play with than one made out of paper.
Step 1
Find a printable car pattern online or in a craft book. Examples of websites that have printable car patterns include Paper Toys, Paper Craft Art Creative and Bosworth Templates (see References).
Step 2
Print out or cut out the paper car pattern you found, and then trace the pattern onto a large index card. If you use a book that doesn't belong to you, then make sure to make a copy of the pattern and not cut it out of the book. The index card should be 5 inches x 8 inches, or in a larger size if you can find one. If the pattern is too big for one index card, then you'll need to use one index card for each side of the car pattern.
Step 3
Cut out the pattern from the index card using a pair of scissors. Make sure to cut carefully along the lines and not to remove any of the tabs from the shape of the pattern.
Step 4
Fold the pattern and its tabs according to the instructions of the paper pattern you found. Use multipurpose glue to attach the tabs to their designated areas.
Step 5
Color the car with markers however you prefer.