Things You'll Need
Clarinet

Lamp kit (which includes push socket, 18AWG lamp cord, mounting hardware, brass lamp pipe, 2-piece easy change harp, locking screws)

Black matte spray paint (optional)

Black electrical tape (optional)

Hack saw

Silicone adhesive

Lamp base

Button finial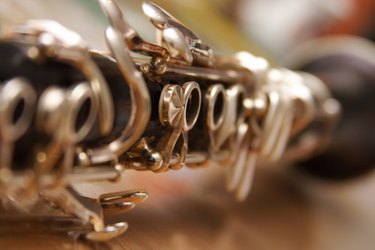 Clarinets, with their straight and hollow construction, can be turned into a nice desk lamp without many alterations. A clarinet lamp would make a nice gift for a music lover, someone who played the instrument in high school or anyone looking for a conversation piece. Scour thrift shops or antique stores for a used clarinet requiring repair and turn it into a lamp.
Step 1
Purchase a table lamp kit from the craft store or home improvement center. Choose a sturdy lamp base. It should be heavy and wide enough to keep the clarinet from toppling. Look for a marble base or solid wood.
Step 2
Assemble the clarinet. Set aside. Paint the rod a matte black or wrap with black electrical tape so that the rod does not show through the keys of the clarinet.
Step 3
Follow the manufacturer's instructions to assemble the lamp kit. Attach the socket to the all-thread pipe. Don't worry about the length yet, you will cut this to fit once all the pieces are laid out together.
Step 4
Thread the pipe through the clarinet. Mark the cut-off spot, remove from the clarinet and cut off the excess with a hack-saw. Place the rod back through the clarinet.
Step 5
Thread the plug end of the lamp cord through the pipe. Secure the socket with the provided locking screws. Set the clarinet in place on the base. Pull the cord through the hole base. Secure the bell of the clarinet to the base with a bead of silicone adhesive. Add the plug to the cord following the manufacturer's instructions.
Step 6
Screw a light bulb into the socket. Place the lampshade on top. Finish with a button finial. Press the clarinet's mouth piece over this piece if desired. Alternately, look for a treble clef finial from a lamp supply company.