Things You'll Need
Impregnating sealer

Dish

Foam paintbrush

Absorbent cotton cloth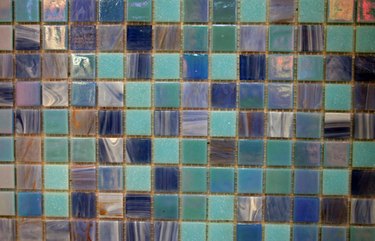 Glass tiles are being used more frequently in floor and wall installations than ever before. Glass is a nonporous, easy to care for product that does not stain or absorb water. To keep the rest of the tile installation looking great, the grout lines surrounding the glass tiles should be sealed with an impregnating sealer. Sealing glass tile grout may be faster than sealing other products, as the glass will release the sealer the grout does not absorb easily, making clean up simple.
Step 1
Wait at least two to three weeks after installing glass tiles before sealing the grout. Moisture must escape from behind the glass through the grout lines since the glass cannot absorb it. Sealing the grout joints too soon may leave moisture trapped behind the glass, weakening the installation.
Step 2
Pour the sealer into a shallow dish wide enough for the paintbrush to be dipped into. Saturate the foam paintbrush with sealer and apply the brush to the grout joints around the glass. Fully cover the grout with sealer starting at the top or back of an installation and working down and towards you to prevent drips.
Step 3
Allow the sealer to penetrate the grout for approximately ten minutes. Wipe the glass tiles and grout joints with an absorbent, cotton cloth to remove the excess sealer. The glass will not absorb any sealant, so make sure the cloth absorbs it all. Left over sealer could dry on the glass and leave streaks.