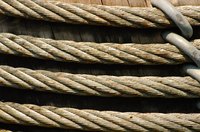 We use ropes in construction, seafaring, hunting and other outdoor sports and activities. They are made out of strands of fibers or wire woven or braided together. You can make ropes from nylon, cotton, manila hemp, metal and nearly any other material that can be arranged into flexible strands. Ropes have been used since prehistoric times. The earliest forms were probably made out of plant fibers that were then woven to make stronger ropes.
Gather the fibers of your rope material. Spin the material into yarns. Twist the yarns into strands or threads.
Make three bundles of strands of the same length. Place the three bundles parallel to each other.
Hold the strands in your left hand with your thumb and fingertips. Take a strand with your right hand and wrap round the right side of the other two (or more) strands. Keep in place with your left thumb. Wrap the next strand in the same way and hold in place. Repeat this until your rope is long enough.
Tie a knot at both ends of the rope.