Things You'll Need
Feathers free of debris

Large envelope or paper bag

Boric acid

Airtight container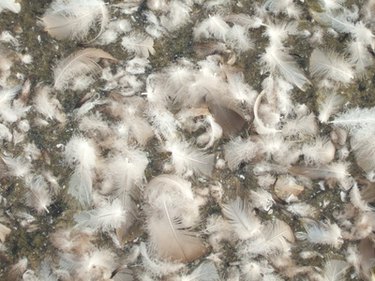 As a readily-available natural resource, feathers have been used in craft-making for thousands of years. They can be glued to many surfaces or wrapped in wire and attached to a necklace cord. However, the feathers available in craft stores are often either colored in gaudy tones or expensive to the point of hindrance. A good solution is to search for feathers in natural areas or a free-range chicken farm, but these found feathers must be properly treated to prevent deterioration.
Step 1
Place feathers in a large envelope or paper bag.
Step 2
Sprinkle enough boric acid inside the bag to surround all feathers when laid flat.
Step 3
Fold the envelope or bag closed and shake for 30 seconds.
Step 4
Hold the envelope or bag horizontally and gently shake one last time.
Step 5
Lay the envelope or bag horizontally on a shelf or counter and let it sit for three days. The boric acid will dry out any mites or bugs present on the feathers.
Step 6
Remove the feathers from the envelope or bag and gently flick them one-by-one to remove the boric acid.
Step 7
Preen the feathers with your fingers by grasping the base with your left hand and rubbing the feather from bottom to top between your right thumb and index finger. This will cause the individual fibers to adhere once again.
Step 8
Store the feathers in an airtight container out of the sun until you're ready to use them.
Tip
Borax is a common and inexpensive source for boric acid. It is sold as a laundry-booster. Boric acid is also ideal for non-toxic treatment of insect infestations of all kinds.
Warning
Avoid contact of boric acid with the skin and eyes. It may have a drying and irritating effect on both.