Silicone rubber is a form of sealant that is composed of silicone-based polymer, which acts as a filling and sealing agent, and then is reinforced with one of a variety of fillers. This type of sealant is weather resistant, so it can be used in extremely cold and aquatic environments on a variety of objects and projects. This type of sealant is preferred over other types because of its flexibility in a wide range of temperatures. Removing this type of sealant is necessary for making repairs.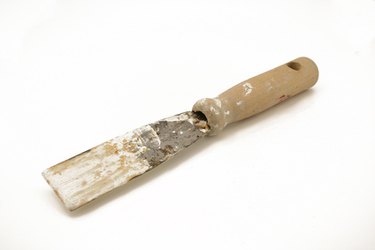 Things You'll Need
Clean Water

Butter Knife

Thin Putty Knife

Wash Cloth

Ethyl Alcohol
Step 1
Pour the ethyl alcohol on top of the silicone rubber. If at all possible, submerge the sealant. Wait 15 to 30 minutes for the alcohol to soften the rubber and break the bond.
Step 2
Use the butter knife or putty knife to break away the bond around the edges of the sealant. Use them to pry up and pull out the silicone rubber.
Step 3
Repeat steps 1 and 2 until the silicone rubber is removed completely.
Step 4
Wash your hands in warm soapy water to remove the alcohol and spray down the area with clean water.
Step 5
Wipe away the remaining alcohol with a wash cloth and rinse the cloth out thoroughly. Allow the area to air-dry for 24 to 48 hours before repairing or replacing the silicone rubber.
Warning
Alcohol is extremely flammable. Keep fire and flame away from ethyl alcohol. Do not ingest silicone rubber, as it is toxic.