Things You'll Need
Flowers

Sketchpad

Floral tape

Styrofoam

Scissors or knife

Floral clay

Plants

Vessels

Floral tubes

Floral wire

Moss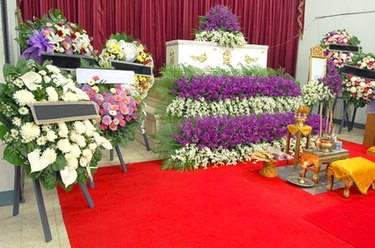 It's irrefutable: indulging in creative pursuits to occupy your mind when times are difficult offers therapeutic relief—especially when mourning the loss of a loved one. Turn your sorrow into action by using your talent for flower arranging to create any of the many types of funeral designs appropriate for display beside, atop or inside the casket. Nothing pays tribute to someone who was beloved like a handcrafted floral arrangement, so take this opportunity to create something beautiful to memorialize a beautiful life.
Step 1
Hand pick flowers from your garden early in the morning and place them into a bucket of water. Use a knife or scissors to re-cut the stems on an angle so they absorb and retain the most water. Purchase flowers if you have no garden—carnations, roses and lilies are appropriate, as these types of flowers (in white) are associated with sorrow and grief in Western society.
Step 2
Choose an appropriate vase, basket, Styrofoam form or vessel to create a base for your funeral flower arrangement. Sketch out a couple of design and placement ideas so you've an idea of where you'll place blooms and greenery once you begin making the actual piece.
Step 3
Create a floral funeral wreath by poking holes into a round or heart-shaped section of Styrofoam sized to hold the number of flowers you've gathered. Insert floral tubes into the foam, each of which has been filled with water. Trim flowers and insert one blossom into each tube. Thread greenery or moss around the individual flowers to hide the base.
Step 4
Arrange a vase full of flowers and hand carry it to the funeral. Crisscross strips of thin floral tape over the mouth of the vase to fashion a grid. Feed individual flower stems between the tape sections so flowers fan out and don't bunch up. Wrap stems with 21- or 22-gauge floral wire if they're weak or cause a healthy flower to slump over.
Step 5
Construct a casket-top floral arrangement in one of three popular sizes: a full, half or quarter casket spray. Pick out a Styrofoam circle, heart or cross, sized to accommodate the number of flowers you'll use. Insert water-filled floral tubes into the sides and top after poking uniform holes into the base. Trim and insert one flower into each tube. Fill in open spaces with fern, moss or greenery.
Step 6
Make a small bouquet of fresh flowers to be placed inside the casket by wrapping graduated lengths of flowers with floral tape to hold the bouquet together. Tightly wrap the stems with white ribbon to hide the tape, tying a bow at the base of the bouquet.
Step 7
Design a "memorial basket" to be taken home by the family after the funeral ends. Fill a waterproof plastic-lined basket with floral clay or soil. Cover the foam with moss. Make holes in the clay, inserting multiple floral tubes and live starter plants. Add small figures (find great ones at the dollar store) to symbolize your loved one's life: small statues of children, pets and other remembrances.