Things You'll Need
Soft cloth

Damp cloth

Dish soap

Water testing kit

Pool skimmer

Pool cover

Garden hose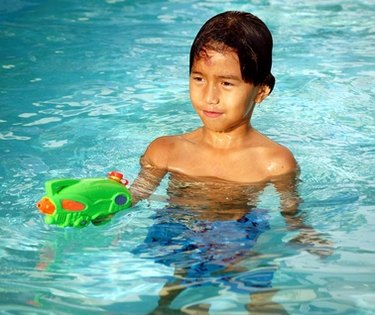 Easy Set Swimming Pools, manufactured by Intex, are non-permanent above-ground pools. Setup involves laying down a liner, adding air to the top ring and filling the pool with water. Most Easy Set pools are ready for swimming the same day they are set up. Sizes and heights vary, but care is consistent. Cleaning and maintenance is required to keep your Easy Set Swimming Pool looking good and functioning in tiptop shape.
Step 1
Wipe the top ring of the Easy Set pool after every use with a soft cloth. Use a damp cloth with a squirt of dish soap to remove tougher debris. Avoid getting dirt or soapsuds in the pool water.
Step 2
Check your pool water daily. Use a water testing kit from a pool center to determine chlorine and pH levels. Adjust levels as directed on the instructions provided with the testing kit.
Step 3
Skim the Easy Set pool using a pool skimmer. Set the skimmer in the water to remove bugs and debris from the water's surface.
Step 4
Cover the Easy Set Swimming Pool with a debris cover when not in use. A pool cover will keep the pool clean and free of debris when take your next swim. Peel back the pool cover and remove, being careful not to allow debris to fall into the water before you swim.
Step 5
Empty and store the Easy Set pool after the summer season if you live in an area with frost. Simply screw the female end of your garden hose up to the drainage spout of the pool, then allow the water to flow out through the hose.
Step 6
Deflate the top ring and allow the Easy Set pool to dry completely. Fold the pool in on itself, forming a neat square.
Step 7
Store the pool in an area safe from winter elements. Choose a safe, out-of-the-way place to prevent damage. The location should have a consistent temperature between 41 and 100 degrees F.
Tip
If you will be leaving your pool up during the off season, follow the instructions on the water testing kit for chemical winterizing and add the required chemicals as directed. Remove the skimmer, replace the strainer grid and cover all of the intake and outtake valves. Remove the ladder and cover the Easy Set pool with its appropriate cover. If you are unclear about how to add chemicals to your pool, speak with a professional at a pool center.
Warning
Do not fold and store the pool while wet, as doing so can cause mildew growth over the winter. Never add chemicals to the pool water while people are swimming in it.