Things You'll Need
Tape measure

Curtains

Tension rod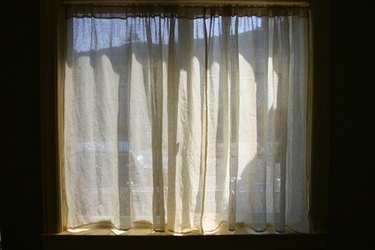 Moving into a dorm or a new apartment presents an exciting opportunity to decorate a space to fit your tastes. Unfortunately, many landlords and management companies have restrictions on what alterations you can make, including putting holes in walls. This doesn't mean you have to shelve your plans for fabric curtains in favor of adhesive paper shades. Tension rods provide the perfect solution for installing curtains simply, quickly and without damaging the walls in your rental home or student housing.
Step 1
Measure the horizontal opening of your window, inside the frame, to see what size tension rod you need. Most tension rods adjust to fit a range of window sizes, so you will only need an approximate measurement.
Step 2
Adjust the tension rod by twisting the ends in opposite directions to either lengthen or shorten the rod. Fine-tune it until it is slightly smaller than your window opening.
Step 3
Slip the curtains onto the rod. Use a single panel for a small, simple window covering. Hang two or more panels for a wide window, especially if you plan to keep the curtains open at times.
Step 4
Arrange the tension rod at the desired height. For total privacy, place the rod toward the top of the window. Keep the rod in the middle of the window for cafe-style curtains, which will let in more light but will only provide coverage for the lower half of the window.
Step 5
Turn the ends of the rod in opposite directions until the tension rod lengthens to fit snugly against the inside of the window frame. Gently tug on the rod to make sure it is secure.
Tip
For a fancier look, use double tension rods. They are hung in the same way, but a second rod extends past the window frame for more coverage and to hold both a sheer panel and a heavier drape.