Things You'll Need
Small screwdriver

Screwdriver

Throttle replacement parts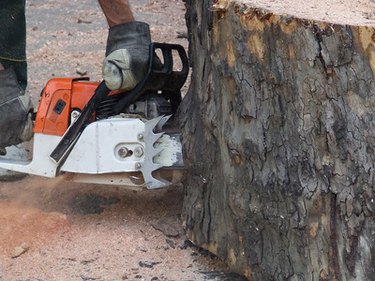 The throttle assembly on a Husqvarna 365 chainsaw runs from the trigger to the choke on the carburetor. When you depress the throttle, the catch opens the inlet valve in the carburetor, feeding fuel to the system and speeding up the piston. These throttle assemblies are connected to the carburetor by a trigger, spring, linkage cable and valve. This model also has a throttle trigger lockout that acts as a safety feature to prevent unwanted chain rotation.
Removing Throttle Lockout Trigger
Step 1
Push the throttle trigger lockout pin out with a small screwdriver. The lockout pin, a small hole, can be found at the top of the throttle handle, next to the lockout trigger.
Step 2
Locate the throttle lockout lever underneath the top plastic trigger. Insert the small screwdriver into the lever's opening on the left side. Push the tab on the lockout lever to the left while pulling the lever out through the top.
Step 3
Push the throttle trigger's locking pin out with the small screwdriver. This will be a small hole at the bottom of the handle, next to the throttle trigger.
Step 4
Using the screwdriver, push the throttle trigger up into the handle and unhook it from the spring. Remove the trigger and spring from the handle. Remove the cable from the lever. Inspect all of the parts for any damage. Replace as necessary.
Removing Throttle Linkage
Step 1
Remove the cylinder cover on top of the engine with the screwdriver. Pull off the air filter from the engine, which sits just below the cylinder cover and above the carburetor. Disconnect the fuel line from the elbow connector on the carburetor.
Step 2
Unscrew the air filter's mounting plate from the crankcase. This plate sits underneath where the air filter rests. Remove the two screws connecting the plate and the carburetor to the intake manifold.
Step 3
Pull off the plate, carburetor and attached throttle linkage. Unscrew the valve covers on the carburetor's mixing section. Disconnect the throttle butterfly-valve from the mixing section of the carburetor.
Step 4
Inspect all parts for any damage. Replace parts as necessary. Reinstall in reverse order. Connect the throttle linkage to the inlet valve on the carburetor. Insert the spring into the handle. Hook the spring to the trigger. Reinstall all of the pins to their original position