Things You'll Need
Thermalite blocks

Concrete

Plastic lining

Full-service pump

Water purifier

Electric heater

Skimmer

Plumbing kit

Screed

Tile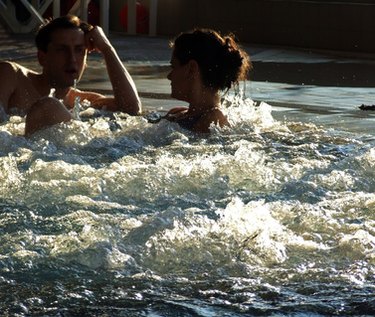 Spas can provide an excellent source of relaxation after a long day at work, some physical exercise or when you just need to relax. There are many different ways to build your own custom spa at home using a wide range of materials and methods. Building your own custom spa should be attempted only if you have the necessary know-how and abilities when it comes to the electrical and plumbing steps of the process. Depending on your budget and preferred design type, building a custom spa can be a potentially inexpensive mission.
Step 1
Choose the site of your spa and start preparing the base. Excavate an area to your desired size and line it with a thick plastic covering. Pour concrete for the base and allow it to dry before moving on to the walls of your spa.
Step 2
Construct the walls using thermalite blocks to the height you desire. Pour concrete at ground level around the spa to serve as both a walkway around the tub as well as to help act as a counter to the pressure that the tub will have once it is filled with water.
Step 3
Decide where you want your jets to be placed in the tub and then bore holes in the thermalite blocks. Insert pipes through the holes leaving enough room to add the jet head and body and use grout to set them in place. Also consider how much space will be taken up by your tile at the end of the project.
Step 4
Add a skimmer at the water height you desire as well as drainage pipes using the same procedure as for the jet pipes and grout them in place. It may be easier to weld your pipes together prior to applying the grout depending on the flexibility and material you use for the pipes.
Step 5
Attach all the pipes necessary for plumbing; you will use two sizes of pipes: one for air and another for water. Connect the necessary plumbing to the electrical pump and filter.
Step 6
Add screed and tile to your spa. With the plumbing set and covered, choose a tile that fits your preferred style and function.
Tip
There are many other ways to construct your own spa. The differences will be in the form of heating, types of materials, plumbing (or lack thereof) and presence of electricity. Much of this will depend on the resources you have available and the type of homemade spa you would like to construct. You can also purchase step-by-step instructions with specific information for every step of the process online.
Warning
Any time electricity and water are used together, there is a potential danger. Do not attempt this without the proper abilities and having taken all necessary precautions.