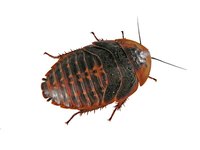 If you live in a region rich with bug life, you may appreciate bugs in their natural habitat but not in or on your home. The Environmental Protection Agency has registered several insecticides that when added to paint are generally safe for humans and pets but kill many types of insects. Some formulas are EPA-registered for both interior and exterior use; others for exteriors only. Insecticides can be added to paint not only for your home but for barns, kennels and stables.
Things You'll Need
5-gallon bucket
Insecticide additive
Stir stick or paint shaker
Pour your paint into a clean 5-gallon bucket for mixing.
Add the insecticide according to label directions. Amounts vary depending on the brand; you will typically need between 1 and 2 ounces of insecticide per gallon.
Mix the paint thoroughly with either a stir stick or on a paint shaker.
Stir the paint about once an hour during use to prevent it settling to the bottom of the bucket.