Things You'll Need
Ladder

Screwdriver

Drill

Credit card or plastic card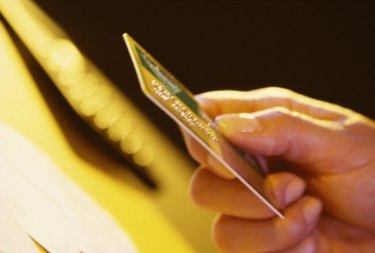 When you decide to take apart your vertical blinds, you'll need to take them down from the window first. You may want to take apart your blinds to fix them, or maybe you just need to wash them. Some people even try to create a new blind out of old parts. Whatever your reason or project, make sure you have all the materials you'll need before you start.
Uninstall The Vertical Blinds
Step 1
Climb the ladder to get a proper view of your vertical blinds. Locate the locking tab on blinds. The locking tab is in the corner of the installation bracket. Push the screwdriver into the locking tab on the installation bracket.
Step 2
Twist the screwdriver once it is in place. This will release the headrail from the installation bracket. Make sure you have a firm grip on the headrail when you do this, otherwise the blinds may swing back at you. Repeat this with each bracket, moving from one end of the blinds to the other until you're done.
Step 3
Take the vertical blinds off the brackets and place them on the ground or a table.
Step 4
Take down the installation brackets if you're not planning on reinstalling the blinds. Loosen the screws in the brackets and the bracket and screws will come out.
Take Apart The Vertical Blinds
Step 1
Open the blinds. You may have to hold them up to do this. You'll need them open so you can access the prongs.
Step 2
Insert a credit card or another plastic card of the same size into the prongs at the top of the vanes, which are the vertical slats. The vanes are held into the headrail by the prongs. There is a long prong and a short prong. Place the credit card under the long prong, between it and the vane.
Step 3
With the credit card in place, push up on the vane.
Step 4
Open the vane hook with the credit card. Pushing the credit card under the long prong will open it.
Step 5
Take the vane out of the hook. Repeat this process for all of the vanes, one at a time.