Things You'll Need
Measuring tape

Pencil

Hammer

Pry bar

Table saw

Construction adhesive

Pnuematic nail gun

Jigsaw

Miter saw

Wood putty

Paint or stain

Paintbrush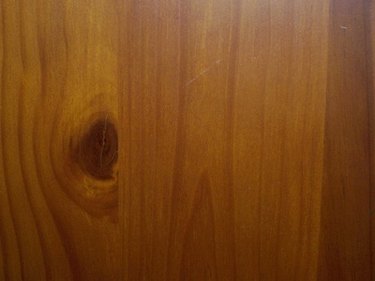 Wood paneling can look worn out and out of date. Installing beadboard over the existing paneling will add historic charm to your home while getting rid of dark paneling from your walls. Learn how to install beadboard over the wood paneling in your home. The task isn't difficult if you have do-it-yourself skills.
Step 1
Measure with a measuring tape and mark the wall with a pencil to indicate where the paneling should be placed.
Step 2
Remove the molding and trim from the wood paneling with a hammer and pry bar.
Step 3
Cut the beadboard to size with a table saw. Apply construction adhesive to the back of the beadboard. Place the beadboard on the wall, over the top of the existing paneling. Use a pneumatic nail gun to nail the beadboard into place on the paneling. If you are using smaller panels of beadboard, place the tongue of each panel into the groove of the previous panel.
Step 4
Place the beadboard on the paneling until it covers the desired area. Cut out areas for electrical outlets, heating registers, and light switches with a jigsaw.
Step 5
Add chair rail molding above the beadboard. Beadboard that extends to the top of the wall does not need a chair rail. However, if the beadboard stops in the middle of the wall, you'll need a chair rail. Measure the wall, transfer the measurement to the molding and cut it with a miter saw. Nail the chair rail into place on top of the beadboard with the pneumatic nail gun.
Step 6
Fill the nail holes with wood putty. Allow the putty to dry. Paint or stain the beadboard molding, using a paintbrush. Reinstall the molding around the windows and doors.
Tip
Beadboard can come in a large panel or several smaller panels with a tongue and groove.