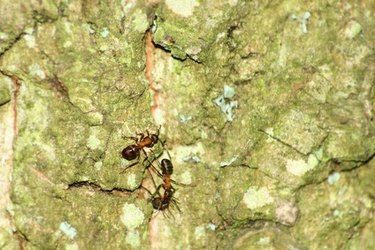 Pavement ants, also known as house ants or sugar ants, are the small brown ants most commonly seen in houses, grass, dirt, sidewalks and driveways. The use of salt to remove pavement ants from a driveway can be a safe and effective extermination method. There are a few techniques you can use to kill pavement ants that incorporate salt. Consult an extermination expert with any questions.
Step 1
Sprinkle ordinary table salt on cracks in the driveway, along the sides and where the ants are present. Make sure the driveway and surrounding areas are dry before applying salt for the best effectiveness.
Step 2
Repeat weekly until the ants are gone. After consuming the salt, the ants will drink water or other moisture until they essentially explode. Be aware that the salt will also kill any weeds or plants present, so use caution.
Step 3
Draw a line with salt at the end of the driveway on the pavement to prevent the ants from crossing over into the lawn or home.
Step 4
If table salt is not effective, purchase a sweet ant bait trap that contains boric acid salt. (Boric acid is a hydroponic salt.) The ants are attracted to the sugar in the bait, consume the boric acid salt with the sugar, and then take the poison back to their home, where it spreads to the other ants.
Step 5
Place the ant baits along the sides and ends of the driveway. Use caution when using ant baits because boric acid can be toxic to pets and humans as well as insects.