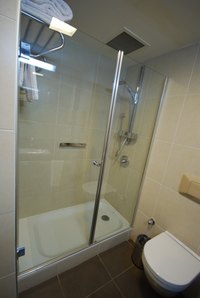 There are many styles of shower doors including single, double, sliding and swinging doors. Shower doors can swing inwards, outwards or both directions depending on the type of hinges in the installation process. Measuring the opening for shower doors is a standard procedure for any type of door. Writing down the measurements helps to choose the correct door for the opening. Manufacturers sell shower doors with a minimum and maximum measurement in width to accommodate the shower opening measurements.
Things You'll Need
Use a measuring tape to measure the bottom width of the shower area that requires a shower door. Measure the complete width from side to side in the middle of the curb on the shower pan. Record the measurement on a piece of paper with a pen.
Measure the top width of the shower area where the top of the door will rest. Record this measurement on the paper. Compare the two width numbers. If the vertical or horizontal walls are out of plumb, the two numbers will differ slightly.
Measure the shower opening height from the center of the shower curb up to the height of the shower head on the wall. This allows the hardware on the shower door to be invisible from the outside of the shower.