Things You'll Need
Cotton flannel fabric, 1/4 yard

Scissors

Thread

Flax seeds, 6 cups (about 2 pounds)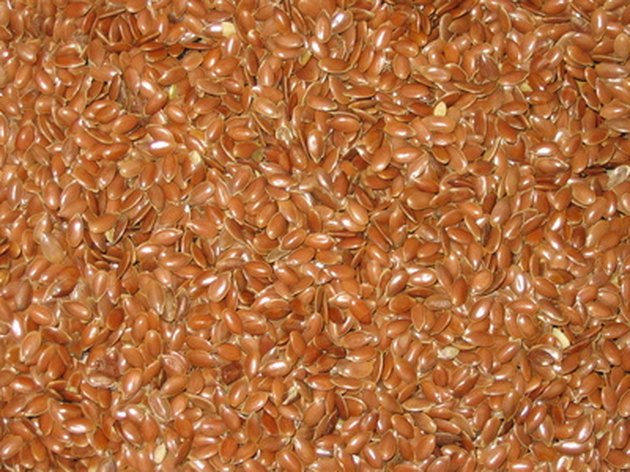 Smooth, tiny flax seeds make a comfortable filling for soothing hot packs to ease the ache of sore muscles or provide extra heat during cold days or nights. Use a soft material such as flannel for the exterior of the pack and heat the finished pack in the microwave. The flax seeds effectively hold the heat and can be reheated many times. Any flax seeds will work for these hot packs. You can make the packs different sizes: a large pack for your back or a long, tubular pack to drape around your shoulders.
Step 1
Fold the fabric in half, right sides together. This will result in a pack that measures roughly 9 inches by 18 inches. If you want a narrower pack or one of a different shape, cut the fabric accordingly.
Step 2
Sew a 1/4 inch seam around two of the three unsewn sides of the pack. Leave one short side open.
Step 3
Turn the pack right side out. Pour the flax seeds into the pack. Fill the pack to within 1 inch of the top.
Step 4
Turn under the raw edges of the open end. Stitch the end closed. Use tiny stitches close together to seal the end tight.
Tip
Use a funnel or a small scoop to fill the pack with flax seed.
Mix lavender or crushed cinnamon sticks with the flax seed for a pleasant aroma.
Warning
Do not heat the flax seed hot pack more than 2 minutes in the microwave. Heat for one minute initially, then 30 seconds at a time, up to 2 minutes. Heating too long will cause the seeds to scorch.
Don't allow the pack to get wet. This could cause the seeds to sprout or rot.