Things You'll Need
Two cups of soap flakes or grated white soap bars

Cheese grater if needed

Slow cooker or double boiler

1/2 gallon distilled water

2 tablespoons glycerin

Wooden spoon

Funnel

Glass or plastic-capped bottle

Fragrance and coloring (optional)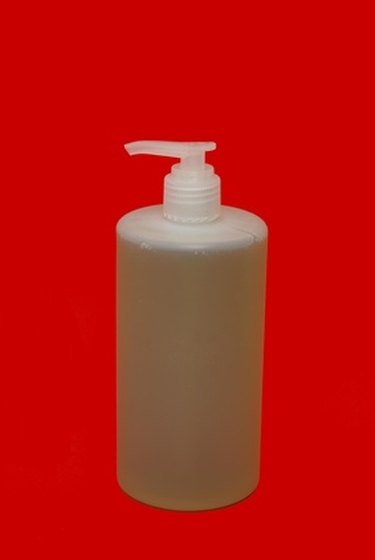 Liquid bath soap is a great alternative to regular bar soap. With just a few simple ingredients, you can easily make your own version. Depending on what you want the final product to look and smell like, add fragrance or colorant of your choosing. Store in a pretty glass or plastic-capped bottle. Homemade liquid bath soap has fewer harsh ingredients than commercially prepared liquid bath soap. It is recommended for use only as a body soap, and not as a shampoo.
Step 1
Grate 2 cups worth of plain, white soap bars using a cheese grater or use prepared soap flakes.
Step 2
Set slow cooker on low setting. If using a double boiler, set on stove, and boil some water in the bottom pan. Place top of double boiler on bottom pan.
Step 3
Put the soap flakes or grated soap into the slow cooker or the top of the double boiler. Add 1/2 gallon of distilled water and 2 tablespoons of glycerin to the soap. Stir with wooden spoon to completely mix together. Add the optional fragrance and coloring. Start with one or two drops of each and build up to the desired level.
Step 4
Leave on low heat until the soap has completely melted. Remove from heat. Allow to cool slightly.
Step 5
Use a funnel to pour the liquid soap into glass or plastic bottles and cap tightly once cooled off.
Tip
You may increase the amount of water in the recipe to 1 gallon to make a thinner liquid soap mixture. Distilled water is recommended.
Warning
Be careful when handling the hot liquid soap.