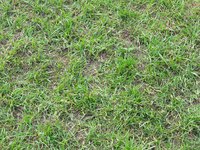 Making dioramas and recreating certain situations are a good way of learning. The most important part of the diorama is to make sure it looks realistic. Many dioramas call for the use of grass to recreate a scene, and there are many ways different types of grass that can be purchased and glued onto any scene to make it look realistic. However, there are other ways to make grass out of things that may already be lying around the house.
Things You'll Need
Shaved coconut
Green food dye
Empty the bag of coconut shavings into the bowl. Make sure to leave some room to mix the coconut.
Put drops of green food dye in with the coconut. The amount of dye you will use will have to do with how dark you want the grass to be. For darker grass, put more dye in.
Take the spoon and mix the coconut and dye together until it is all green.
Repeat Steps 2 and 3 if the "grass" is not as dark as you would like it to be until it is the desired color.
Spread a liberal amount of glue on the area where grass is desired and sprinkle the coconut onto the grass.