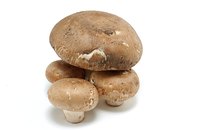 According to Gourmet Sleuth, the portabella mushroom is simply a large brown crimini mushroom. These mushrooms are popular in a wide variety of dishes, and because of their large caps, they are ideal for being stuffed and baked. Preparing portabella mushrooms for stuffing is a straightforward task.
Things You'll Need
Portabella mushrooms
Colander
Paper towel
Moisten a paper towel and use it to gently clean any dirt off of the portabello mushrooms.
Place the portabello mushrooms in a colander.
Run cold water over the portabello mushrooms for several seconds. Portabello mushrooms will not absorb much water if their contact with water is brief.
Pat the portabello mushrooms dry with a paper towel.
Cut the stems away using a small, sharp knife. In many stuffed mushroom recipes, they can be minced and added to the stuffing.
Scoop out the gills of the mushroom with a small spoon.
Stuff your portabello mushrooms.