Things You'll Need
Portabella mushrooms

Colander

Paper towel

Knife

Small spoon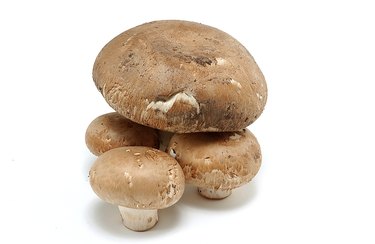 According to Gourmet Sleuth, the portabella mushroom is simply a large brown crimini mushroom. These mushrooms are popular in a wide variety of dishes, and because of their large caps, they are ideal for being stuffed and baked. Preparing portabella mushrooms for stuffing is a straightforward task.
Step 1
Moisten a paper towel and use it to gently clean any dirt off of the portabello mushrooms.
Step 2
Place the portabello mushrooms in a colander.
Step 3
Run cold water over the portabello mushrooms for several seconds. Portabello mushrooms will not absorb much water if their contact with water is brief.
Step 4
Pat the portabello mushrooms dry with a paper towel.
Step 5
Cut the stems away using a small, sharp knife. In many stuffed mushroom recipes, they can be minced and added to the stuffing.
Step 6
Scoop out the gills of the mushroom with a small spoon.
Step 7
Stuff your portabello mushrooms.
Tip
Leaving the gills in will reduce the amount of stuffing that you can place in your portabello mushroom, but it will give the cooked mushroom an intense brown color.
The longer you cook a portabello, the meatier the texture will be.