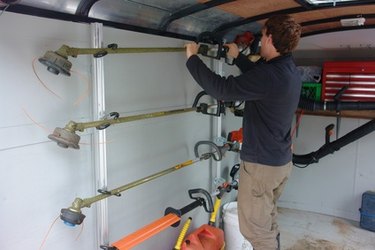 The trimmer line on a weed eater, also referred to as the cutting line, is the line located on the trimmer head at the end of your tool. The trimmer line is what cuts the weeds. There are straight shaft weed eaters and curved shaft weed eaters, both of which have trimmer heads that use a trimmer line. Before changing the trimmer line in your weed eater you must have the proper size line for your model. Refer to the owner's manual of your model for the line size that you need.
Step 1
Remove the spool from the trimmer head and unscrew the bump knob to access the spool by twisting in the direction that the arrow indicates. Some models have a retaining ring that secures the spool to the trimmer head. Remove this by squeezing the clips inward and pulling the head straight off. Some retaining ring casings require squeezing the clips as well as making a slight turn.
Step 2
Cut the replacement trimmer line to 20 feet. If your model has a two-line trimmer head, cut two equal lengths of line.
Step 3
Locate the starter hole on the inside of the spool. The starter hole will be on the core of the spool and is not to be confused with the various notches or holes on the ends of the spool.
Step 4
Insert the replacement trimmer line into the starter hole. Wind your line in the direction the arrow indicates on the spool. Leave 5 inches of line unwound.
Step 5
Locate the notch, or notches, on the edge of the spool. After winding the replacement line onto the spool, clip the remaining 5 inches of line into the notch.
Step 6
Insert the trimmer spool back into the trimmer head.
Step 7
Unclasp the remaining 5 inches of trimmer line from the notch. Guide the line through the lead hole or holes located on the trimmer head.
Step 8
Replace the retaining ring or bump knob. Retaining rings will snap back into place. Bump knobs require you to screw the knob back into place.
Tip
For your protection, wear gloves and eyes protection during this replacement process.
Warning
According to the "Stihl USA website," improper use of a trimmer can result in serious or fatal injuries.