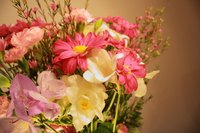 In addition to lending color, shape and fragrance to any setting, flowers possess the power to communicate what words sometimes cannot. Consequently, they often play a role in life's most significant moments. Just as they are used to celebrate happy occasions such as births and marriages, flowers are also used to honor the deceased and express sympathy during funerals. Wreaths, sprays, basket arrangements and vase arrangements are common types of funeral floral arrangements. A blanket of flowers laid over the casket, also known as a casket spray, is another typical funeral floral arrangement.
Things You'll Need
Green plastic casket saddle
Floral foam
Assorted cut flowers
Assorted cut greenery
Floral knife
Waterproof floral tape
Water-filled buckets
Assemble an assortment of fresh cut flowers and greenery to create the casket spray. Choose types and colors of flowers that reflect the taste and personality of the deceased person, if possible.
Slice off the bottom 1 to 2 inches from every flower and greenery stem with a floral knife. Place the freshly cut flowers and greenery in water-filled buckets where they can remain hydrated while you assemble the casket spray.
Submerge one or more blocks of floral foam in a water-filled bucket. Allow the foam to soak in the water until it is fully saturated. Note that the amount of floral foam you require depends on the size of the casket saddle you choose, and the size of the casket spray desired.
Position the floral foam in the casket saddle, a container that fits over a casket and is designed to hold floral foam. Secure the foam in place by wrapping waterproof floral tape over the top of it and around the casket saddle.
Insert greenery into the floral foam to establish the shape of the casket spray and serve as a foundation for flowers. Alter the length of each greenery stem as needed with a floral knife. Position stems of greenery around the entire perimeter of the floral foam. Angle the greenery down slightly so that it covers the casket saddle. Add greenery to the top of the floral foam. Place long pieces at both ends of the floral foam. Let long pieces emerge from both sides of the floral foam. Angle the greenery down so to create a draping, blanket effect.
Add flowers to the floral foam. Alter the length of each flower stem as needed with a floral knife. Use flowers the shape you established with greenery. Place longer stems at the ends and sides of the floral foam. Position shorter stems at the top of the floral foam.
Fill the foam completely with flowers and greenery. Make sure the arrangement is full, and that no floral foam or portion of the casket saddle is visible from any angle.