Things You'll Need
Hammer

Chisel

Hatchet

Chain saw

Circular saw

Draw knife

Vise

Tendon cutter

Bit

Drill

Hand sander

Sandpaper

Polyurethane varnish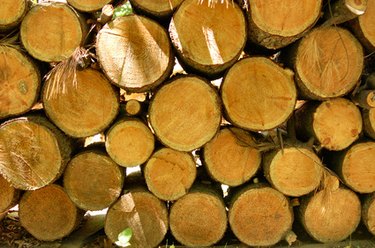 Although you may follow a general plan or blueprint, no two log beds are the same. Logs draw its unique shape, colorization and character from nature, and the exact design of any bed can never be replicated. There is great satisfaction to be gained from gathering materials from the wild to craft your own one-of-a-kind log bed frame. From gathering materials to the final finish, building your own log bed is a rewarding project for the experienced do-it-yourself home owner.
Step 1
Draw a sketch and note the dimensions of the type of bed frame you wish to build. Harvest standing dead timber that will accommodate your design. Search for unusually bent or twisted trees as well as interesting branches to incorporate into your design. If you cut live trees, dry the wood well before using for furniture production. White pine, cedar, diamond willow and aspen are ideal woods for log furniture creations.
Step 2
Use a draw knife to scrape and peel bark from the logs and branches you will utilize in your design. A draw knife leaves distinctive scraping marks that many artisans favor and incorporate into their designs. A smoother surface and conformity can be obtained by sanding the logs with a hand sander. Start with 60 grit sandpaper and conclude sanding with 200 grit paper.
Step 3
Craft tenon joints; basic tools include a vise, drill, bit and tenon cutter. A tenon cutter or chucking tool (resembles a giant pencil sharpener) is helpful in creating tight fitting joints. Joints can also be carved with a draw knife and drill or formed with a small hatchet. Tight fitting tenon joints is the most important step in crafting a durable and stable bed frame.
Step 4
Sand the bed frame again after assembly. Use 200 grit sand paper until the desired result is achieved.
Step 5
Apply two coats of clear polyurethane varnish. For the smoothest finish, sand lightly between coats. Wipe off all sanding dust with a damp rag prior to the second coat of varnish.
Warning
Follow safety suggestions and always wear eye and ear protection when working with power tools and chain saws.