Mortar is the compound between bricks or concrete. It is the glue that holds a project together, and its color can determine the overall effect of a project. Mortar is easily tinted with acrylic paints. Many art and building restorers are using acrylic paint to tint preexisting surfaces because of the gentle nature of acrylic paint.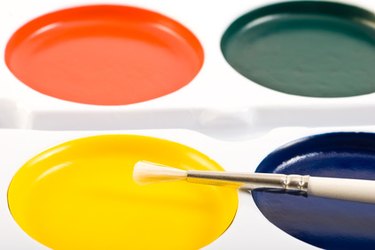 Things You'll Need
Gallon Jug, Optional

Acrylic Paint

Brush

Sponge

Rags

Small Bowl

Styrofoam Plate

Paint Knife

Water
Step 1
Fill a small bowl with water, and set it aside. You may need to refill your water bowl during the tinting process.
Step 2
Make sure you have access to running water, especially if you are working outdoors. If necessary, bring a gallon water jug outside to your work area in order to prevent multiple trips for collecting water.
Step 3
Place your desired color of acrylic paint onto a Styrofoam plate. Add a small amount of water and mix the paint with a paint knife. Continue to add water until you reach the consistency you prefer. A thicker paint mixture will result in darker, more opaque colors, while a thinner paint mixture will allow the original mortar to show through with only a small amount of tinting. Either choice is fine. The amount of mortar tinting you need depends on your personal preference.
Step 4
Paint the thinned paint directly onto the mortar. Depending on the size of your project, you may prefer to use a sponge instead of a paint brush. Both the sponge and paintbrush will work well for any project. Paint the entire surface of the mortar.
Step 5
Wipe any excess tinting away from the bricks or the concrete blocks that surround the mortar. Acrylic paint dries extremely fast, so it's important to keep a wet rag handy. Wipe up any mistakes immediately. Allow the paint mixture to dry thoroughly.
Tip
If tinting an outdoor structure, watch the weather forecast closely. The paint needs to dry for at least a full day before it gets wet. Working in direct sunlight can cause your tint to dry faster than normal. When working on these types of projects, you might want to use painter's tape to prevent mistakes. Tape the area around where you are working so that the thinned paint will not get onto other surfaces. Painter's tape can be used on all projects. For inside projects, work in an area that has a consistent temperature. Paint dries better when the work area is warm, and not humid.
Warning
Always work in a well-ventilated area when using acrylic tint indoors.