Things You'll Need
Mild soap (like dish soap) and water

Latex exterior house paint

Stir stick

Paintbrush

Newspapers and/or drop cloth

Rags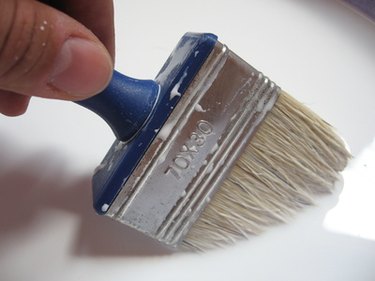 Priming the surfaces on the exterior of your house is a crucial step in painting them because it seals the surface and ensures the final coat of paint will adhere well. Fortunately, today most newly installed steel entry doors come pre-primed, meaning a coat of primer was applied at the factory and the door is ready to paint. Just a few preparatory steps are necessary before you get to work.
Step 1
Clean the surface of the door. Though the door surface is primed, it may have become dirty or oily during shipment and installation. Use a small amount of soap and water to wipe down the surface. Make sure the door is completely dry before you paint.
Step 2
Protect the floor and other surfaces near the door. Cover the floor beneath the door with a drop cloth or old newspapers to protect the floor from drips or spills.
Step 3
Stir the paint. Use a good-quality, latex paint formulated for exterior use, and stir it thoroughly with a stir stick to make sure the paint is completely mixed.
Step 4
Use a brush to apply the paint to the door, using long, even strokes. It is best to apply the paint from the top of the door down to the bottom, so any drips are painted over as you work.
Step 5
If the door has smaller rectangular areas that simulate panels, paint those first. Then paint the remaining horizontal areas of the door, and finally the vertical areas. Check for drips in the corners of the panels as you work and brush them away.
Step 6
When you're finished, clean your brush with soap and water. Let the door surface dry for several hours before closing the door.
Tip
You may want to paint your door with a second coat for durability, since doors get a lot of use and wear. If you do so, let the door dry for four to six hours before recoating. If the door you are painting is in direct sunlight, try to paint early in the morning, before the door has heated up. Metal doors that very hot in sunlight will compromise the quality of the paint bond.
Warning
Using cheap paint or paint that has been thinned will result in a poorly protected surface, one you will soon have to re-prime and repaint. Most factory-preprimed doors are meant to be painted with latex exterior paint, but some manufacturers recommend other kinds of paint--check the manufacturer's instructions to make sure you choose the correct type.