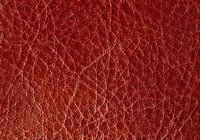 Leather topped tables once were popular items often used as writing desks. Usually the leather is inserted into a wooden surround and it may be glued directly to the wood. Sometimes the leather has gold embellishments that are painted or embossed onto the leather surface. Over time, leather will dry out, crack, deteriorate or rot. Often a certain amount of recovery is possible if the damage is minor.
Things You'll Need
Leather cleanser
Sponge
Cotton swabs
Towel
Rags
Leather conditioner
Leather fill pen (optional)
Leather repair kit (optional)
Leather finisher
Clean or restore the finish on the wooden portions of the table. Be careful not to spill paints, stains or wood finishes onto the leather surface.
Clean the leather top surface using a leather specific cleanser. Use very little water when cleaning leather as it will lift the dye and dry out the leather. The water will attach or bond to the oils that remain in the leather and as the water dries it will take the oil with it. Use a leather cleanser to remove dirt, grime and grease but not strip the leather.
Sponge the leather clean to remove the unwanted materials. Use a sponge with the cleanser as your applicator. Use a soft sponge and be very careful around any gold embossed areas, as a leather cleanser may remove them.
Apply the cleanser with a cotton swab in very small areas.
Dry the leather with a towel. Examine the surface of the leather. Use permanent markers to touch up areas where the dye is missing. Use leather fill and repair kits for small holes (follow the directions of manufacturers).
Apply a good leather conditioner and finish after your repairs have dried.