Things You'll Need
Soil pH test

Shovel

Gardening hose

Lime pellets

Drop spreader

Fertilizer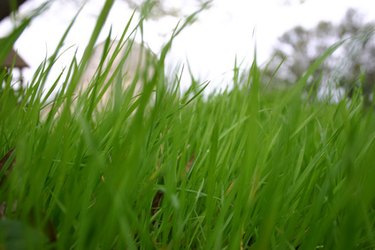 Lime is applied to lawns when the soil pH is out of range for your grass type. Soil that is too acidic will prevent grass roots from absorbing the nutrients in the soil and fertilizer. Lime raises the pH level of the soil, decreasing its acidity. It is important to conduct a soil pH test on your lawn to find out its range and how much lime you need to make your soil amendments. According to Cornell University, the best time to fertilize grass is in the late fall, which also corresponds with the best time to apply lime to a lawn. With both fertilizer and lime applications in the fall, your grass will be healthy in the spring.
Step 1
Purchase a soil testing kit from your local county extension office. Dig a 6-inch hole in your lawn for soil samples. Mail the dry samples to the laboratory's address provided on the testing kit. Wait roughly three weeks for the results. The results will indicate how much lime to use and the type of fertilizer to apply.
Step 2
Water your lawn for three days before distributing fertilizer to prevent the nitrogen from burning the yard.
Step 3
Pour pelletized lime pellets in a drop spreader. Avoid using more than 50 lbs. of lime on a 1,000-square-foot area. Roll the spreader across the yard as if following an imaginary line back and forth.
Step 4
Fill the drop spreader with granular fertilizer or broadcast the fertilizer by hand. Follow the imaginary line or the path of lime pellets to get an even spread with the fertilizer.
Step 5
Water your lawn thoroughly to dissolve the lime pellets and prevent the granular fertilizer from burning the grass.
Tip
Lime and fertilize your lawn in the fall. The lime will need a few months to break down, while the fertilizer will help your grass green up in the spring.
Use another combination of chemicals such as herbicide with fertilizer to kill cool weather weeds and promote a healthy lawn in the spring.
Warning
Avoid over-liming your lawn to prevent raising the pH range that will harm the grass.
Sure-Gro Inc. recommends applying fertilizer and lime separately and to avoid mixing the products.