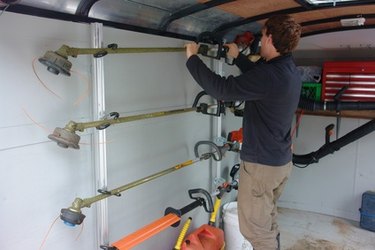 The McCulloch trimmer head consists of the string spool, knob and a spring beneath the stringer spool and around the spindle. A trimmer spool that has damage will need replacing in order to ensure proper trimming. You can purchase replacement trimmer spool heads at home improvement centers. Replacing the trimmer head is slightly different between McCulloch's electric and gas-powered trimmers. Replacing the spool heads does not require any tools and you can accomplish the task in 30 minutes once you have your replacement spool kit.
Electric Trimmer
Step 1
Disconnect the extension cord from the McCulloch electric trimmer. Lay the trimmer on its side with the trimmer head facing toward you.
Step 2
Hold the outer ribbed part of the spool with one hand. Grab the line spool with your other hand and press down while twisting the line spool counterclockwise to unlock the spool.
Step 3
Release your grip on the line spool and turn the rib portion counterclockwise to remove the trimmer line spool and knob. Lift the spring off the spindle.
Step 4
Place a new spring over the spindle with the larger portion of the spring pointing toward the trimmer.
Step 5
Place the prewound trimmer line spool over the spindle and position the knob over the spindle. Twist the knob clockwise to engage the line spool until the lock engages.
Gas Trimmers
Step 1
Unplug the spark plug wire from the top of the spark plug. Grab the wire at the boot and twist counterclockwise and lift the wire off the spark plug.
Step 2
Place the trimmer on its side so the fuel tank cap is pointing away from the ground. This will prevent fuel from spilling on the ground while disassembling the trimmer head.
Step 3
Turn the retaining knob on the bottom of the head assembly counterclockwise to remove the knob from the spindle. Pull the line spool and spring off the spindle.
Step 4
Place the new spring over the spindle and place the line spool over the spring.
Step 5
Position the retaining knob over the spindle and line spool and turn the knob clockwise to secure the line spool and spring. Place the spark plug wire back over the spark plug.