Things You'll Need
Dust pan

Broom

Vacuum

Disc floor sander

Sanding discs

Polyurethane finish

Lamb's wool applicator

Mop

Rubbing alcohol

Garden sprayer

Paper towels

Paint brush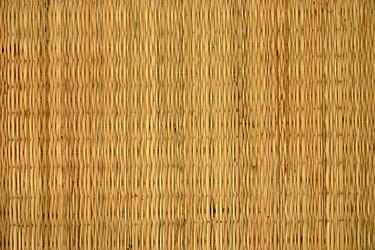 Bamboo provides the eye-catching look of a traditional hardwood floor. Bamboo floors are also extremely durable and long lasting. Bamboo is actually harder and more resilient than most wood floors, which makes it highly resistant to damage such as dents, nicks and gouges. You seal bamboo, which is actually made of grass and is not wood at all, in the same way you seal a wood floor.
Step 1
Prepare the surface. Sand off the old finish with an even and smooth pressure with a disc floor sander and a medium-grit disc. Vacuum debris and damp mop to remove to remove any dust.
Step 2
Apply and prepare the first coat of polyurethane finish. Use a lamb's wool applicator in a pattern that goes across the room by brushing along and partially over the edge of the previous row in the direction of the wood's grain. Allow it to dry for 24 hours or longer in high humidity and sand with a 120-grit sanding disc.
Step 3
Apply and prepare the second coat of polyurethane. Apply to a clean surface with the mop and allow at least 24 hours for drying. Sand with a 150-grit sanding disc... Spray the floor with alcohol and then wipe it with a paper towel.
Step 4
Apply and prepare a third coat of polyurethane. Allow the third coat to dry overnight. Sand the floor again with a 150-grit sanding disc.
Step 5
Apply a fourth coat of the finish with a 4-inch paint brush. Leave the floor untouched for 72 hours.
Tip
Apply the polyurethane sealer at least once a year to prevent having to refinish the floor. To determine if you have removed the finish correctly with the sander, look at the dust. If the dust is light and white in color, you are removing finish. If the dust is darker and thicker, stop immediately because you are now sanding bamboo.
Warning
Open up all the windows in your room when applying the new finish.