Things You'll Need
Dried flowers

Translucent polymer clay

Wax paper

Blender

Aluminum foil

Baking pan with sides

Thick pin

Sealant for polymer clay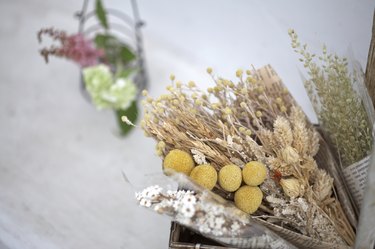 Memorial beads are used to mark special occasions in life by using dried flowers to make beads that are associated with that event. Precious memories can be preserved by using translucent polymer clay along with dried flower petals. The translucent clay makes the flower particles visible in this special work of art, and it is surprisingly simple to do. Use your memorial beads for bracelets, necklaces, in shadow boxes or as a keepsake for a memory box.
Step 1
Pick the petals off of the dried flowers from arrangements or bouquets. Roses, chrysanthemums, lilies and many other types of flowers can be air-dried successfully. Completely dry the petals before starting your project. This may take 15 to 20 minutes to complete. Discard leaves and stems.
Step 2
Cover your work area with wax paper. Tape the ends down to stabilize the wax paper on your work surface. Raw clay may harm some surfaces such as plastic or wood.
Step 3
Place the dried petals in a blender or food processor. Gently, chop the petals until they are about the size of a grain of rice or smaller. Place the chopped petals in a bowl. If you don't have a food processor, scissors or a craft knife will do.
Step 4
Work translucent clay between the palms of your hands. Kneading and working the clay will make it soft, pliable and easier to work with.
Step 5
Break off a small piece of clay. The size of the piece of clay should be the size that you want your memorial bead to be. Roll the clay piece in the dried petals until it is completely covered. Knead the petal pieces into the clay until the petals are embedded throughout the clay.
Step 6
Roll the clay into the shape that you want your bead to be. Roll the clay into balls, triangles, barrels or any shape you wish.
Step 7
Make a hole through your bead if you plan on making them into jewelry. Use a thick pin, knitting needle or skewer to make the holes.You want to make the holes large or small enough so that you will feel comfortable stringing the beads for your final project
Step 8
Place the beads -- spaced so they do not touch one another -- on a shallow baking dish covered with aluminum foil. Use a baking dish with sides so that the beads do not roll off.
Step 9
Bake the beads following the clay manufacturer's instructions. Different clay products may have different baking times. Generally, polymer clay beads are cooked at 250 degrees F for 15 to 30 minutes.
Step 10
Protect your memorial beads with a varnish or sealant after they have cooled. Use a protective coating designed for use with polymer clay. Other types of coatings may discolor or yellow your memorial beads over time.
Tip
Put a bit of corn starch on your hands if the clay sticks to your hands while shaping it.
Add more color to your memorial beads by adding tiny pieces of colorful polymer clay while mixing.
Use the beads as an ornament by stringing them around a Christmas tree.
Glue the beads to a jewelry box where important items that were owned by the departed are kept.