Things You'll Need
Measuring tape

Polypropylene strap

Perforated metal hanger

Wire

Nails and hammer

Screw gun and screws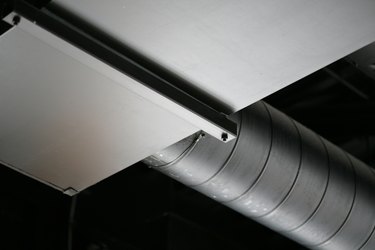 Ductwork is used for heating and cooling systems (HVAC). Since one's house or building is longer than a single length of a metal duct, it's necessary to have more than one duct attached together. And because these lengths need to be supported so that the air flows without impediment inside them, it's necessary to know how to properly hang metal ductwork.
Step 1
Plan ahead when hanging metal ductwork. The metal ductwork needs to hang so it forms a straight line and also without any sags. Keep in mind that all metal ductwork should be kept at least an inch from any material that's combustible.
Step 2
Choose the hanger you would like to use to hang your metal ductwork. There are three choices of metal ductwork hangers that are commonly used: a polypropylene strap, a metal strap that's perforated and therefor adjustable, and wire. The polypropylene strap is best in that it can be cut to any length and will not bend or deform the metal ductwork in any way. The metal strap is also adjustable and can be cut to length. While it also does not affect the ductwork in any way, it's not as easy to use as the polypropylene strap. Wire hangers are perhaps the most common, but they run the greatest risk of deforming or bending the metal ductwork.
Step 3
Install the hangers for the metal ductwork at 2 to 5 foot intervals to prevent the ductwork from sagging. Measure carefully to make sure that the ductwork is the proper distance from anything combustible, and attach the hanger to the joist. Relying on the strength of the joist will help ensure that your ductwork will remain where you need it to hang, thus allowing your system to run as it should. Use screws or nails to attach the hangers to the joists.