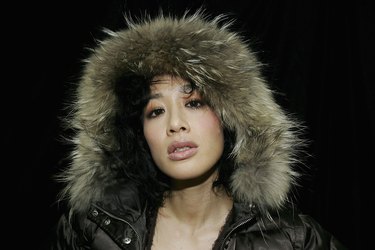 Faux, or fake, fur has been used as a humane alternative to animal fur since 1929. Initially, faux fur was used for economic reasons, but today most people choose it for ethical reasons. Faux fur is mostly made from acrylic fibers derived from coal, petroleum, air and limestone. The trim on your faux fur coats, hats and sweatshirts must be taken care of properly so they are not damaged and do not become warped.
Step 1
Wash your faux fur-trimmed piece in a washing machine with cold water and a small amount of detergent on the gentle cycle.
Step 2
Brush the fur outward after removing it from the washing machine.
Step 3
Hang the piece to dry. Never place the faux fur in the dryer as this could cause the fur to become warped.
Step 4
Wash your garments as little as possible. Ideally, your pieces should only be laundered two or three times every year and can be spot cleaned with laundry detergent between washings.
Step 5
Avoid placing the faux fur trim near any heat sources, such as radiators or open flames. This will melt the fibers and destroy the garment.
Step 6
Store the piece away from direct sunlight, as this will fade the faux fur's color over time.