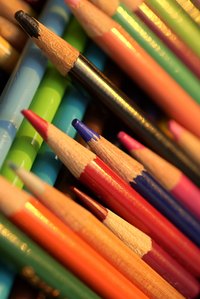 Converting a picture to a beading pattern is not difficult. As long as the shape is clearly defined, you can convert your pictures with relative ease. There are also computer programs that will translate your pictures into a beading pattern. The computer makes it easier to convert complex pictures with many color changes, but you can do it yourself without the added expense of buying the software.
Things You'll Need
Colored pencils
Photograph
Find a picture that you want to make into a beading pattern. If it is a photograph, it may be better to transfer it to your computer first, size it and print it off. Do not use a real picture beneath your graph paper. This will ruin the picture.
Trace the picture onto your graph paper with colored pencils. Use translucent graph paper over the picture you want to copy. This will make the transfer easier. Use the same colors as the beads you want to use, they should correspond to the colors in the picture.
Fill in the graph squares with color. Sometimes two colors cross over within one square. When that happens, choose the color that will keep your picture looking most accurate. For a complex picture, you may want to use your computer to assist your design.
Install a beading program, or visit an online beading pattern site, if your beading picture is too complicated to transfer by hand. The computer will also save time if you want a pattern quickly.
Scan the image you want to bead into your computer. Save it as a JPG file. With a few clicks of the mouse, the computer program or website will convert any picture you want into a bead pattern.