Things You'll Need
Sandpaper of fine, medium or coarse grit*

Scratching post(s)

Heavy-duty twine

Staple gun and staples

Hot glue gun and glue

Safety goggles

Scissors or a utility knife

Hammer

*The grit of sandpaper you use should be dependent upon which grit your cat likes most. Therefore, it may take some time to find the right grit for your cat.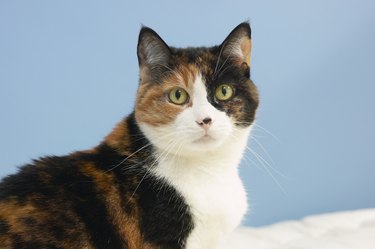 Scratching is one of a cat's basic instincts and is very common among them. This scratching habit can, however, be detrimental to household furniture and other belongings. Cat scratching posts are often used in households with a cat, but sometimes the material they're made from is unpleasant or not tempting enough for the cat to give up its habit of scratching, say, a leather sofa. Using sandpaper on scratching posts can often help fix this problem. With a few simple materials and steps, you can turn your scratching posts into feline attractors, and save your furniture from damage.
What to Do
Step 1
Look over your scratching post or posts to determine whether you'll need to remove the existing material. In most cases, especially with the choice of using twine, staples, or hot glue, removing the original material will not be necessary.
Step 2
Plug up the hot glue gun (if that's your method of choice) or load your staple gun after putting on your safety goggles. Staple guns can sometimes be unpredictable and it is much better to be safe than sorry.
Step 3
Measure against the scratching post and cut or trim the sandpaper to size. Depending on how big the pieces of sandpaper are, this may mean you might have enough to go around the post once, or from top to bottom once, or neither. The sandpaper and angles/size of the scratching post will play a big part here. Whatever the case, you'll want to do this one piece at a time, so get a nice big piece cut out.
Step 4
Glue, staple, or tie the sandpaper pieces to the scratching post. In the case of hot glue, you'll want to make sure and hold the piece into place until it is partially bonded. If you are using staples, place staples two to three inches apart along the piece, and use a hammer to make sure the staples are firmly fixed into the material.
Step 5
Repeat steps three and four, carefully working around the scratching post until it is completely covered. Allow ample time for the glue, if that is what you're using, to dry, usually about an hour.
Step 6
Pair your new scratching post with rewards and appropriate punishment regarding scratching areas to help your cat learn where it is good and bad to scratch.
Tip
Let your cat try out the different grits of sandpaper before choosing which to use permanently on the scratching post.
Warning
Always exercise extreme caution when using a hot glue gun or staple gun, and scissors, to avoid burns and injuries.
Always wear protective eye goggles when using a staple gun.