Things You'll Need
Wood glue

Web clamps

Wood epoxy

Putty knife

Paint scraper

Exterior paints--primer and cover coat

Paint brush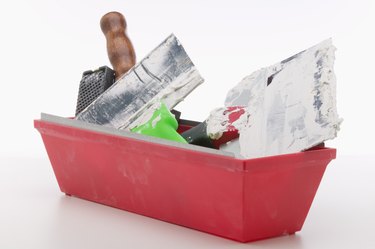 Because wood columns are expensive to replace, it's well worth the time and effort spent repairing them. Not only do they add beauty to your home but added value, as well. Depending on what's ailing your wood column, there are some simple repair solutions that will have your wood columns looking refreshed and as good as new in just a few hours.
Step 1
Repair dehydrated glue seams by forcing wood glue into the open seams. Next, wrap adjustable web clamps around the column and tighten. Web clamps consist of a nylon band with a metal clamping mechanism attached to one end. The band is wrapped around the column and the tail end is threaded back through the metal clamp and pulled tight to draw the glued wood joints tightly together.
Step 2
Mix up a two-part wood epoxy if there are still remaining splits in the column that gluing didn't eliminate. Make sure the wood is dry on the inside and out before working in any epoxy paste with a putty knife. Wait for the epoxy to dry before sanding. Epoxy takes about 30 minutes to harden and is fully cured and ready for sanding in three to four hours.
Step 3
Paint the column properly to seal the surface and protect against future splitting due to weather damage. Scrape paint chips away with a paint scraper. Paint a fresh coat of exterior primer on the column, followed by two coats of exterior paint.
Tip
To ensure a long life for your wood columns, they should be vented from above and below to be sure moisture doesn't get trapped inside the columns.
Warning
Epoxy is noxious smelling. Work with it in well-ventilated areas and wear plastic gloves to keep it off your hands.
For wood columns sitting on concrete, add galvanized sheeting between the bottom of the column and the concrete as a moisture barrier.