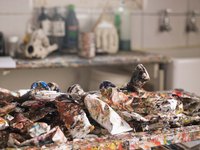 Painting plastic sheet with acrylic paint is easy if done properly. Like most painting, it requires a foundation of primer in order to make the paint adhere to the plastic better. The primer forms a base that is similar to a canvas for the paint to adhere to, so it does not flake off. This ensures that your project will last a long time before it begins to weather, and you will not have to repeat the paint job often--if at all.
Things You'll Need
Acrylic paint
Paint primer
Soap
Clean the plastic with the sponge, soaked in water and soap. Wipe all dirt, water and residue from the plastic with the towel.
Spray-paint the primer on; one coat is enough. Hold the spray can 12 inches away from the plastic sheeting and sweep the can back and forth across the surface, spraying evenly along the surface until there is an even coat. Alternatively, you can paint on the primer with a brush; it may take two or three coats until there is a solid coat of primer paint. Brush the paint on or use a roller if the space is big enough. Avoid clumping the paint; more thin coats of primer are better than one thick, clumpy coat. Allow the primer to dry.
Paint the acrylic paint over the primer with a brush; keep the paint smooth and avoid clumping. Apply three thin coats of the acrylic paint. Wait for the paint to dry between coats.