Things You'll Need
Clay (low-fire earthenware)

Under-glaze

Clear glaze

Pin tool

Craft knife

Wooden dowel or small rolling pin

2 wooden rulers

Bamboo skewer

Assorted stamps

Leaves and flowers

2 small wooden boards

High-temperature wire

Beading wire or string

Jump rings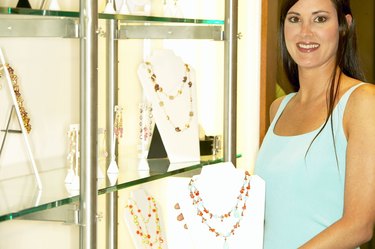 When it comes to ceramic jewelry designs, only your imagination is the limit. Combining the ceramic beads and shapes that you create together with basic beading materials opens you up to even more project possibilities. Making your own ceramic jewelry can be very rewarding, allowing you to create necklaces, bracelets and earrings in the exact colors and designs that you like.
Making Pendants
Step 1
Cut off the clay that you will need from your slab. Roll this clay out about 3/8 of an inch thick for flat shapes and pendants. You can do this with a clay roller, or with a rolling pin using two wooden rulers as guides.
Step 2
Cut out the shapes you want from the rolled out clay. Stamp or carve into the clay to decorate your medallions, pendants and charms. You can also place leaves on the clay and use a rolling pin to flatten in the leaf, or use stamps or anything you can find around your house with interesting texture.
Step 3
Make a hole in the pendant where you would want to attach the cord for a necklace. Make two holes, one on either side, if you want to attach cord, a necklace chain or jump rings on both sides.
Step 4
Dry your pendants and charms between two wood boards so they don't curl up in the drying process. Let dry for a few days.
Making Beads
Step 1
Roll clay in long thing coils (or snakes) to the thickness that you want your bead to be. If you want to imprint a pattern onto the beads, roll the coil into something with texture or draw designs with a pin.
Step 2
Cut the beads to the size you want them to be using a pin tool or craft knife.
Step 3
Make a hole in the center of the bead with a bamboo skewer.
Step 4
Place all beads on a wooden board and cover lightly with a piece of plastic. Let dry for a few days.
Firing, Glazing and Using
Step 1
Fire the beads and pendants in a kiln.
Step 2
Paint the beads and pendants with underglaze. Let them dry well before painting with or dipping in clear glaze, making sure to keep the holes free of glaze.
Step 3
String the glazed beads on high-temperature wire to fire a second time. (Many ceramic artists create a small ceramic structure with high temperature wire sticking out of it and use this to fire their beads every time). Fire flat ceramic pendants on kiln stilts so that they do not stick to the kiln shelves.
Step 4
String the beads and pendants onto beading wire or string to create a basic necklace or bracelet. Combine them with other beads, attach them to one another with jump rings or combine them with any other type of jewelry-making technique to create one-of-a-kind ceramic accessories.