Things You'll Need
Plastic or tarp

Push broom

Foam cleaner

Long-handle scrub brush

Garden hose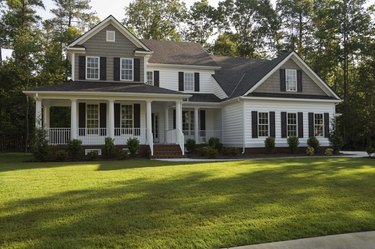 Soot is a black film that develops from fireplaces, wood stoves or barbecues. Some black spots on the house siding could be mold or just plan dirt. It is important to test the area with bleach to determine if the spots are in fact soot. Mold dissipates when you use bleach, however soot remains. Houses have several types of siding such as wood, aluminum or vinyl. Buy products that coincide with the type of material you have. Remove soot off house siding at least once every three months to protect the home.
Step 1
Cover all light fixtures and plants with painter's plastic or a tarp. Prevent harm to the soil as well as the foliage from excess water and soap. Also, if water seeps into the electricity sockets, fire or permanent damage could happen.
Step 2
Sweep the soot siding with the push broom. Remove as much as possible before cleaning. Brush in rows either sideways or up and down. If the soot affects a large area of the siding, work in sections starting at the bottom for the remaining steps.
Step 3
Spray the foam cleaner on the section of siding. Let the foam seep into the soot for roughly seven minutes before continuing.
Step 4
Scrub the foam on the soot siding with the long-handled brush. Use a soft bristle brush as some siding may scratch. Gently scour the area back and forth in rows from bottom to top.
Step 5
Rinse off the foam cleaner with the garden hose. Sweep the water spray back and forth over the section. Wash off thoroughly as a film can develop when dry. Repeat steps 3 to 5 if any soot remains or for the remaining sections.
Tip
Check the label on the foam cleaner for use on your specific siding material such as vinyl or wood. Also, buy a multi-purpose or germicidal cleaner. Certain siding requires special cleaning. Contact the manufacturer if you are unsure. Removing the soot from bottom to top creates less streaking. If the soot stains are high up, you may need to use a ladder.