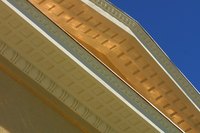 Black mold is toxic, causing flu-like symptoms, sore throat and diarrhea to name a few. This fungus is dangerous and the symptoms will be recurring unless the mold is removed. When you have black mold in the eaves of your roof, it can begin to deteriorate your eaves and cause structural damage to your home, thus getting inside your home and causing these symptoms. Thankfully, there is a simple way to get rid of the black mold that plagues your eaves.
Things You'll Need
1 cup of bleach
1 gallon of water
Spray bottle
Large mop bucket
Regular mop bucket or other container
Soapy water
Ladder
Scrub brush
Fungicide
Mix bleach with water in the large mop bucket.
Put mixture into a spray bottle.
Climb the ladder up to your eaves.
Spray generously all of the black mold spots.
Let the mixture sit from 5 to 15 minutes to give it time for a good penetration into the mold.
Put soapy water in the regular mop bucket or designated container.
Climb back up the ladder with the regular mop bucket. Scrub the sites of black mold until they are gone.
Pour soapy water on the areas with bleach. Scrub until clean.
Treat your eaves with a fungicide to prevent further production of black mold.