Cherry is a premium hardwood used in cabinet making, furniture manufacture, veneers, fine smoking pipes and wood paneling. The wood is light to darker tones of red. The intensity of the color of cherry wood builds due to time and exposure to light and will deepen to a rich wine color over time. Cherry wood cabinets can be paired with a multitude of hardwood flooring materials that will showcase or compliment your cabinets.
Step 1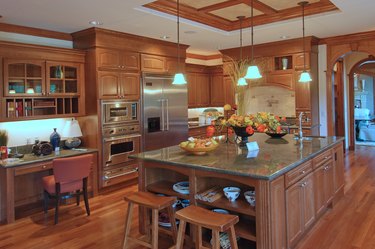 Consider how the cherry wood will darken over time. Newly fabricated cabinets will have a light warm tone, but will age to a mellow mahogany tone. Try to make your flooring choices based on the color that the cabinets will attain, rather than the shade of the cherry wood at installation.
Step 2
Review samples of hardwood flooring and consider the cabinet color as well as the color of appliances and kitchen walls, window treatments, ceilings, available light and decor. Visit decorator showrooms and view room displays and color combinations.
Step 3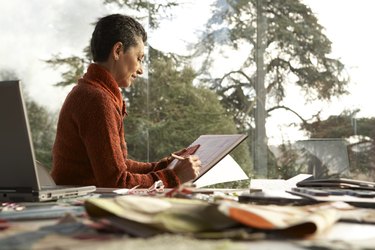 Select a hardwood flooring material that will highlight the beauty of your cabinets. Avoid complex patterns or textures that will distract from the beauty of the fine wood grain of your kitchen cabinets. Read home decorating magazines and shop online for a wealth of decorating ideas and helpful tips.
Step 4
Choose your decorating style. Warm, light hardwood floors such as oak, aspen, hickory or pecan are ideal for a casual kitchen. Darker woods such as Brazilian cherry wood or other exotics present well in a formal setting. Consider using cherry wood for the baseboard trim to tie in with the hue of the cabinets. Also consider whether you will be using the same hardwood throughout the home or if the hardwood will join to carpet or tile.
Step 5
Choose pre-finished, durable, stain-resistant, superior quality flooring material that will stand up to moisture, spills and foot traffic.