Things You'll Need
Drum sander and edger

Floor buffer

120-grit sanding screen

Vacuum

Damp rag

Waterproofing sealer

5-gallon bucket

Respirator

Paintbrush

Roller

Floor finish applicator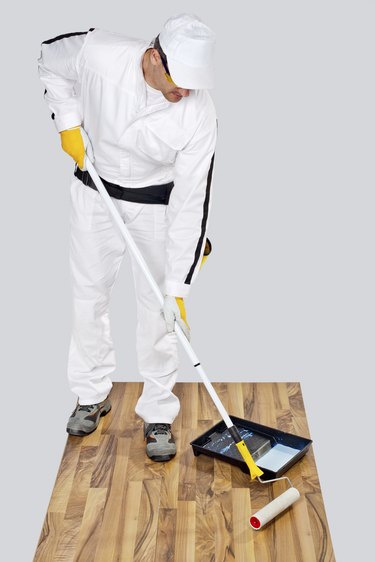 Any finish that you apply to your wood floor will make it water-resistant to some degree, but virtually no finish will make it totally waterproof. To even approach that goal, you'd have to seal the boards on all sides before installing them. The most water-resistant sealer you can apply to an existing floor is polyurethane. If you prefer your floor to maintain a natural, unfinished appearance, you can also achieve water resistance with a penetrating oil or even a paraffin-based waterproofing sealer. You can apply these materials with a brush, roller or floor finish applicator.
Step 1
Sand the floor if it doesn't already have a finish. If you are waterproofing as part of a complete refinishing job, you'll probably want to use a drum sander and edger to give the floor a professional sanding job. If you don't want to go to that trouble, you can also equip a floor buffer with a 120-grit sanding screen and run it over the floor to flatten the grain.
Step 2
Clean the floor thoroughly with a vacuum, then wipe it down with a damp tack cloth to remove fine bits of dust the vacuum missed.
Step 3
Choose the waterproofing sealer that best suits your needs. Exterior waterproofing sealers, such as the type you use for decks, evaporate quickly and leave a water-repellent coating of paraffin in the wood. Penetrating oils provide a protective coating by hardening in the grain, and they also leave the surface looking natural. Film coatings such as polyurethane provide the most water protection, but they remain visible on the wood.
Step 4
Pour the sealer into a 5-gallon bucket. Apply paraffin-based sealer with a brush or roller. If you're using penetrating oil, apply it with a brush and keep a rag handy to wipe off excess that pools on the wood. A floor finish applicator, which is similar to a weighted sponge squeegee that you drag along the floor, is best for polyurethane. Begin spreading it on the floor in the corner of the room farthest from the door and work toward the exit. Keep the windows open while you're working and wear a respirator.
Step 5
Allow the sealer to dry overnight. If you applied paraffin sealer or oil, your job is done, but if you applied polyurethane, and you're not going to apply another coat of floor finish, screen the floor once more with a 120-grit sanding screen, then vacuum and tack away the dust.
Tip
Work slowly when applying polyurethane to avoid creating bubbles. Keep a paint brush handy to brush away any bubbles that do form.
To maintain the floor's water resistance, you should apply more sealer every year or two.