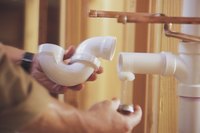 PVC or CPVC piping is common in many modern houses, and occasionally a leak can develop in one of the joints. No special tools are needed to do this, and virtually anyone with do it yourself experience will be able to accomplish this task.This article explains how to replace a leaking joint in the pipework and solve the problem
Things You'll Need
Pipe cutter or hacksaw
Sharp knife
Tape measure
Sand paper
Replacement PVC joints
PVC Cement
Turn off the water supply and open the taps/faucets above and below the leak to empty the pipework. Then cut the pipe above and below the leaking joint. A regular hacksaw blade works well for this. Sand all the rough edges with sandpaper. If the pipes are drained, very little water should come out of the pipes, but try to dry them as much as possible.
Dry assemble the new joints and short pipe pieces. Makes sure you use the same type of pipe and joints as the rest of the plumbing. Start from the lower pipe and build upwards toward the upper pipe section doing one joint at a time.
Each joint should be clean and dry, use a hair dryer if needed. Coat the whole of the pipe surface with PVC cement, then coat the inside of the joint with a thin layer of cement. Quickly push the joint onto the pipe and give it a quarter turn. Leave it for 5 minutes before touching it again. Then move onto the next joint.