Things You'll Need
Dishwashing soap

Vegetable oil

Sponge

Cloth

Bucket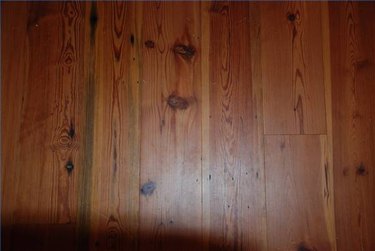 The stained wood surfaces in your home add a touch of style and elegance to its decor. They also require regular cleaning to maintain their shine and depth of color. With a little effort and the everyday cleaning supplies around your home, you can get professional cleaning results and keep the stained wood surfaces in your home looking beautiful.
Step 1
Mix 1/4 cup of dishwashing soap and 1 tbsp. of vegetable oil with a bucket of warm water. This is an excellent home-made substitute for commercial wood-cleaning products, as the soap is mild enough to not harm the wood, and the vegetable oil will polish the wood.
Step 2
Wipe the stained wood area to be cleaned with a dry, clean cloth to ensure the surface is free of dust and loose dirt.
Step 3
Apply the oil/soap solution to the stained wood surface with a clean sponge. Use only a small amount of the solution.
Step 4
Rinse the sponge with clean water and wipe the stained wood surface with the wet sponge to remove any excess soapy residue.
Step 5
Buff the stained wood dry with a clean, dry cloth. This will remove any excess water and polish the wood to a clean, streak-free shine.
Warning
Don't use abrasive cleaners like ammonia on your hardwood floors.